Reginald Lamont Moye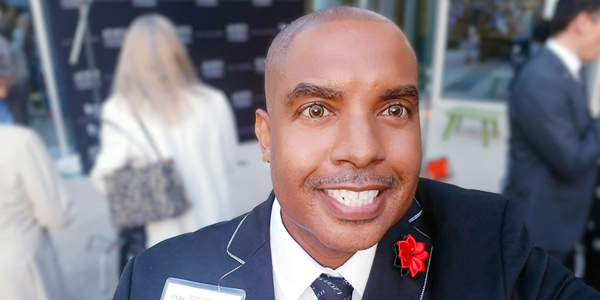 Reginald Lamont Moye (Music '91 HS, '98)—Reggie to his friends—has followed a musical path from rural Eastern North Carolina to the some of the world's most prominent stages.
His remarkable journey might never have happened, however, without a very timely gift in the amount of $200.
Raised in Snow Hill, NC-population 1,500-Reggie was introduced to UNCSA by his high school band teacher, Mr. Shaw. Even though he had no formal vocal training, he auditioned for the High School Voice Program in the School of Music. The faculty recognized his natural talent and, during his time as a high school and undergraduate student, helped hone that raw ability into refined skill.
But while his abilities helped him find his way to UNCSA's campus, his journey was nearly prevented over a matter of $200.
"My family was on a fixed income, and when it came time to enroll, we were $200 short," Reggie recounts. "My mother couldn't help. My church couldn't help. And had it not been for a gift from my aunt just a few days before orientation, I wouldn't have been able to afford to attend."
Thanks to that timely gift, Reggie was on his way. After graduating from UNCSA in 1998, he headed to New York City. His first professional music gig was as a production singer on a cruise ship, and soon he was working on films such as "Glitter" with Mariah Carey and "The Interpreter" with Nicole Kidman. He has also performed in productions with Flying Ship Productions Children's Theater, Dutch Apple Theatre, and the National Children's Theater. In addition, he has worked as a background singer for the Harlem Gospel Singers and the Jubilee Singers, and has performed with churches and civic organizations across the country.
This journey would not have been possible were it not for his aunt and that life-changing gift, and that experience inspired him to make a difference in the lives of new generations of artists.
"I will never forget that feeling of relief," Reggie says. "I made a decision then to pay it forward and help some other young aspiring minority artist to achieve their dreams."
Working with the Office of Advancement, Reggie created the Reginald L. Moye Endowed Scholarship through a testamentary gift. The scholarship will support students in the School of Music who demonstrate artistic and academic success as well as financial need. Priority will be given to minority high school voice students-students who are walking a path that Reggie walked a few decades ago.
"I wanted a legacy and to help another artist," Reggie says. "I am adopted and single with no kids and no immediate family. This is my way to leave my footprint in the earth."