Establishing a Harmonious Legacy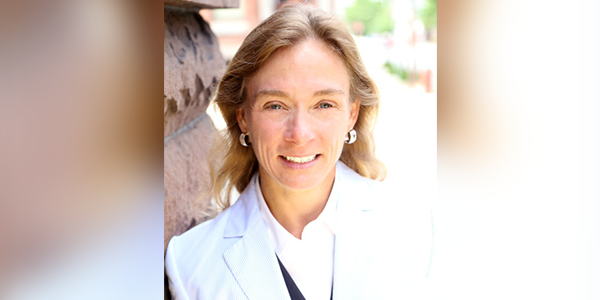 Hope Adams (Music H.S. '83, B.F.A. '87) found her way from Eastern North Carolina to a remarkable legal career through the unlikely path of the horn program at UNCSA. Through her estate plans, she is honoring a beloved teacher and ensuring that future generations of students have the opportunity to blaze their own unique trails.
Until late in her high school career, Adams wasn't sure she'd ever leave her hometown of Rocky Mount, in Eastern North Carolina.
She was, however, an excellent French Horn player, and worked her way up to first chair of the North Carolina All-State Band.
"In 1981 or '82, All-State Band was having a concert outside of Raleigh," Adams says, "and afterwards, a guy came up to me and said he was a recruiter for North Carolina School of the Arts, and that I was invited to audition, if I was interested."
She went home that night and told her parents, but day-to-day financial realities made the idea of affording a boarding high school 160 miles from home seem insurmountable.
"We agreed that it sounded really nice, but wasn't really going to be in our budget."
Nevertheless, Adams went to Winston-Salem to audition, and was admitted as a rising senior in high school.
"The only reason I was able to go is because the high school tuition was reasonable and I got a Nancy S. Reynolds Scholarship to pay for most of the room and board," she says.
Adams attended UNCSA for high school, graduating in 1983, and was admitted to the undergraduate program to study horn. She says that during her time at the school, she learned skills that would remain with her for the rest of her life.
"The School of the Arts was a magical place for me. I was such a music geek, and it was just a wonderful place to be for five years. I didn't turn out to be a professional musician, but the skills I got there and the work ethic has served me well throughout my life."
Central to her experience at UNCSA was longtime horn professor Fred Bergstone. Bergstone was a founding faculty member in the School of Music and remained at the school until his retirement in 1999.
"Fred was a very important person in my life in high school and college. He was an amazing musician and teacher."
During her time at UNCSA, Adams had the opportunity to play with local orchestras, including the Winston-Salem Symphony and the Greensboro Symphony, but wasn't convinced she was ready to continue her studies immediately after graduation. Instead, she opted to take a year off to practice for graduate school auditions.
"During that time, I lived in a boarding house in Winston-Salem, and my daytime job was as a 'gopher' for a lawfirm. I basically picked up people's dry-cleaning and got their cars washed. Halfway through my year off, I realizedů these lawyers had a pretty good life."
Adams chose to explore careers in law, and eventually attended law school, receiving both a J.D. and an LLM.
She became an attorney and worked in private practice for several decades before joining a major bank as senior legal counsel, a position she has held since 2011.
Despite this change in path, she recognizes the role that her musical training has played in her career.
"I think the work ethic got me through law school," says Adams. At School of the Arts, I used to practice five, six, seven hours a day. You become a real workhorse. The practice requirements, the academic requirements, the performance requirements: it's not an easy lift. You have to work for it."
She also says she developed comfort in presenting in front of others that has been useful in her career, not to mention a sincere fondness for music that continues to be a part of her life.
"I'm still a huge music lover. I don't let it get too far from me."
Fred Bergstone died in 2021, and Adams wanted to find a way to demonstrate the impact that he had on her and so many others by establishing a scholarship in his memory. She soon learned that members of Bergstone's family had already set up two such funds-a horn scholarship and a discretionary fund for the horn program.
She chose to set up a planned gift through a will bequest, with a portion of her eventual estate to be divided between the two funds. She also opted to make additional gifts now, which allowed the funds to be awarded immediately while the endowments continue to grow.
"I had such high esteem for Fred, and I wanted to support whatever has his name on it," Adams says.
She also saw it as an opportunity to give back to an institution that had served a pivotal role in her life, from the admissions representative who first saw her at her All-State Band concert to the scholarship supporters who made it possible to attend high school and college at UNCSA.
"I'd have never gotten out of Rocky Mount, NC, and gotten where I am today if that School of the Arts recruiter hadn't found me, and Nancy S. Reynolds hadn't given me a little bit of money," Adams says. "I'm convinced that I may have never gone to college. We just didn't do that in my family."
Adams hopes to see the Bergstone Scholarship and the Bergstone Endowed Horn Studio Fund continue to grow with the support of the many whose lives were impacted by Fred.
"I would encourage anyone who received a scholarship while they were [at School of the Arts] to give back to the extent that they can," Adams says. "Give so that others can receive that same kind of support."